The home selling process can be stressful, so I like to deliver helpful guidance, resources, and advice to reduce stress before, during, and after the home selling process.
When I read Tara's blog at Suburble.com I immediately thought of you, dear reader, and wanted to share her fabulous checklist to take the uncertainty out of knowing what needs to be done to keep your home looking its best for potential buyers. Read the full article.
The reality of selling a home is, buyers and their agents don't always provide a lot of notice when they want to see a house. During those times when you least expect to show your home -- it never fails -- the showing request comes in.
While it's nice to keep your house in model home condition at all times, life happens. We still need to use our kitchens, do our laundry, kids need to play, and we need to sleep under the covers, despite for sale sign out front.
For most people, panic is the first thought that crosses our minds. This "Show-Ready Home Checklist" is perfect for reducing the stress of the last minute showing. Keep it handy while your home is on the market.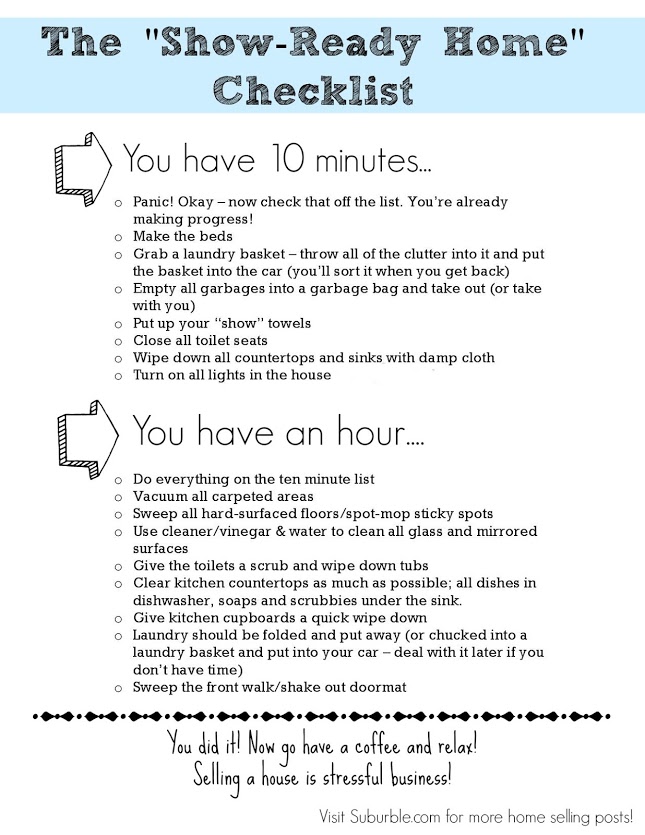 Happy Selling!
Follow Audrey Romano, REALTOR® with Long & Foster, Real Estate, Inc. and MDHomeNews.com on Pinterest to see more great ideas for your home.

Audrey Romano, REALTOR®
Long & Foster, Real Estate, Inc.
301-466-9552 direct | 301-548-9700 office
Email: AudreyR@LNF.com
Website: MDHomeNews.com
Twitter: @MDHomeNews and @Audrey_Romano
Facebook: https://www.facebook.com/MDHomeNews